If your roof has been damaged, it's likely that you will need to get it repaired. Some damage is obvious, while others may be more subtle. In either case, you'll need to hire a professional to inspect your roof. Signs of damage include wet or missing shingles, blistering or peeling paint, sagging, and water stains on the exterior or attic walls. In severe cases, you might even notice a light in your attic.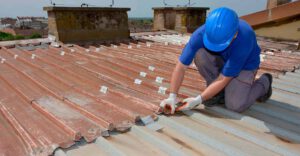 One area that can be repaired by a professional is the granules that are on the shingles. These granules protect the roof from harmful UV rays. However, they wear off over time due to heavy rains or wind. Once the granules are missing, you'll see bare patches on your roof. If the shingles are cracked or have come loose, you'll need to repair them. The damage in the granules can lead to further issues and can be a sign of a more serious issue.
When you find a crack, the best course of action may be to patch the hole with a patch and sealant. A small patch of sealant will cost $2 to $4. A professional roofer will charge between $100 and $1,556 to repair a larger patch. The cost depends on the size of the patch and the type of materials that you choose. You can save money by doing your own roof repairs, but they may be more expensive if you have to replace the entire roof.
The flashing around a vent, such as a chimney, can also get damaged over time. Metal flashing can crack due to continuous exposure to sunlight. In addition, it can also crack due to deteriorated sealant. To replace the flashing and repair the cracks around the base of a fixture, contact a professional roofer. You can also try replacing the vent flashing. This is an inexpensive and relatively simple repair.
When your roof has a leak, you must identify it quickly. A persistent leak can damage the rafters and trusses of your roof. If this happens, they may bend. If the rafters and trusses are damaged, the sheathing will retain moisture and sag. The sheathing could need to be replaced. In addition, you may need to replace the entire roof, including the sheathing.
While a do-it-yourselfer may be able to repair a leak in a short time, he might not be able to inspect the whole roof. In addition, a do-it-yourselfer or handyman may not look at the entire house, and they may cut corners to reduce their costs. When you choose a professional, you'll enjoy a warranty that will protect your investment and help you save money.
Soffits and fascia are also expensive components of a roof. Repairing these elements may cost you between $250 and $750, depending on the type of material and size. These components protect the roof structure and prevent water from entering through cracks. In severe cases, the repair may require inspection of the attic. If you're not sure if the problem lies in the shingles, you'll need to hire a professional who specializes in roof repair.
Depending on the extent of damage, a repair may be the better option. However, roof repairs are not effective for very large damages, such as missing shingles. The shingles on the roof have already passed their life expectancy and may need to be replaced. A repair may be cheaper, but it can't fix a larger issue. If you need a new roof, you should consider a full-on replacement. There are many benefits and disadvantages to choosing a repair over a full-on replacement.
Sagging is another major problem and requires professional help. The damage may be the result of an act of nature or a sudden accident. In either case, your insurance policy should cover the cost of repairing the roof. If not, you'll have to pay for the deductible and pay for the rest yourself. And if you wait too long, you may not get the full coverage you need. But it will still be worth it. This article will teach you how to get a repair done for your roof.