Hiring an Interior Painter
Painting seems like a pretty straightforward task your brush or roller into some paint and apply it evenly to walls. However, there is much more to it than that.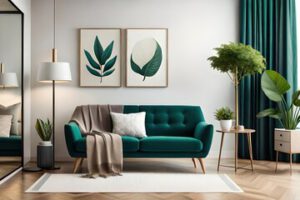 The interior painter at Painter Brick NJ is more than happy to answer any questions you may have about their services. They are always willing to provide a clear estimate that includes both direct and indirect costs.
If you're hiring a professional painting company, they'll have a crew of painters working on your home at the same time. This means that the job will be completed much faster than if you were to try and do it yourself.
Before the painters begin work, they will probably do a walk-through of your home to determine how much paint is needed and where it will be applied. This will help them estimate the time required to complete the project. If you have any specific deadlines in mind for when the work should be done, let the painters know so they can factor this into their estimates.
The painters will also have all of the necessary tools and supplies needed to get the job done right. They will be able to cover furniture with plastic sheets to prevent paint from getting on it and they can also use special racking systems to make painting cabinets and doors faster.
When hiring an interior painter, be sure to ask about their insurance coverage and what their responsibilities are in the event of an accident on the job. A reputable painting contractor will have liability and workers compensation coverage so that you don't have to worry about being held responsible if something goes wrong.
You can also help make the job easier for your painters by moving furniture away from walls and removing wall hangings. This will save them time and energy because they won't have to move it back later or rehang anything. It's also a good idea to remove or take down curtains, rugs, and other fabric items in the room being painted. You don't want expensive rugs or throws covered in paint splatter or drips!
If you have any valuables in the space, it's a good idea to store them in a safe place or put them in storage for the duration of the project. Finally, be sure to have any pets or children out of the area while the painters are working. They may have a loud, sanding machine or power tools that could scare them.
They Finish the Job Faster
Whether you want to do a full room paint job or simply accent a wall, a professional will know how to quickly get the work done without losing quality. A good interior painter should also be able to finish the project in less time than you would have expected, saving you money on labor costs and leaving your home looking great.
If you're considering hiring an interior painting contractor, make sure to ask about their pricing structure. Some will charge a flat rate per square foot, while others may use a formula to calculate their rates. Make sure you understand the breakdown of the costs so you can choose the best option for your needs and budget.
In addition to the cost of materials, an interior painter will likely incur other indirect expenses such as gas for their work truck and monthly rent for their workspace. They may also have a stipend for their assistants or other staff members, depending on the size of the company they work for.
Most experienced painting professionals will provide a detailed quote for each job that they're hired to do. They'll do a walk-through of the space and take measurements, ensuring that they have all the information they need to provide an accurate estimate. They will also explain what type of paint will be used, and the steps needed to prepare the surface for painting.
Before a painter begins working, they'll take the time to put down drop cloths and cover furniture. They'll also take down wall hangings, if necessary, and move any large items out of the way. They will also remove any nails or screws that are sticking out of the walls, and vacuum the area to be painted, to prevent dust from getting trapped under the paint.
When it comes to the actual painting, a pro will apply a thick coat of paint in one coat, instead of two or more. This will create a smoother finish, and will protect the surface from moisture and other potential damage.
In addition to providing an expertly-applied coat of paint, an interior painter will help you choose the right color for your space and offer advice on how to care for it in the future. They'll also give you tips on how to save money by reusing some of the old paint in the space, as well as provide options for touch-ups.
They're More Than Happy to Answer Any Questions You Have
If you have a question about the project or how long it will take, don't hesitate to ask. A good painter will be more than happy to answer your questions and help you make the best decisions possible for your home. A professional will also be happy to provide contact information for references and a portfolio of their previous work so you can see the quality for yourself. They will not want you to be afraid of hiring them, so they will be sure to make the process as stress-free as possible for you.
Some painters may be able to quote simple projects right on the spot, but others will need to do a walk-through of your space and take measurements before they can give you a complete estimate. This is especially true for interior painting, as it can be hard to predict the amount of time the project will take without seeing the space in person. A professional will also be able to offer a color consultation, but it is important to remember that you have the final say in the colors you choose for your home.
A great way to find a contractor is by asking for recommendations from friends and family members. If they've had their homes painted recently, they'll be able to tell you how the painter performed and whether or not they would recommend them to anyone else. Another great resource is online review sites, like Angie's List and Yelp. They can help you find a local painter with the highest ratings and best reviews.
You may also want to ask about the painter's experience, whether they specialize in commercial or residential work, and what their rates are. It's a good idea to look for a company that has been in business for at least a few years, as it will be more likely that they have the proper insurance and licensing required to do the job.
You should also ask about their warranty and if they are insured in case something goes wrong with the job. Many painters will offer a guarantee on their work, so be sure to read the fine print and ask about any exclusions.
They'll Leave Your Home Clean
If you're not sure if your painting contractor is a good fit for your project, look for one that offers a guarantee. This means that if you aren't happy with the job or notice flaking, chipping, excessive fading or chalking within two years of the completion date, they'll come back to touch it up at no cost. This is an excellent way to ensure that you're getting a high-quality job.
A professional interior painter will clean up the work area before they leave your house. This includes removing tape and dusting. They'll also sand rough surfaces and caulk loose baseboards. This makes sure that the walls are ready to be painted and prevents the new paint from peeling or cracking.
If there's furniture in the room that's being painted, it should be moved to another area so the painters can get around it easily. You should also remove any clocks, artwork, photos and other decorative items that are on the wall. These can be knocked down or damaged during the painting process and should be stored safely in a closet or other room.
The best way to find a great interior painter is to research different companies online. Read reviews and browse photos of previous projects. Once you've found a few painters that look promising, contact them to ask questions and request a quote.
A fresh coat of paint can do wonders for a home. It will make it look cleaner and newer, and may even increase its value. Many real estate agents recommend that homeowners paint their homes in neutral shades before putting them on the market, as these colors are more appealing to potential buyers. If you're thinking of selling your home, consider asking a professional painter to help you pick the right color. Their experience and expertise will help you choose a paint color that's trendy and popular in your area and that will be appealing to potential buyers.