How Long Do Concrete Retaining Walls Last?
Retaining walls are often used to correct sloping landscapes and enhance home aesthetics. They can also be used to prevent soil erosion and improve drainage problems around homes.
They are highly durable and can withstand significant earth pressures. They are also easy to build. They can be installed by Concrete Contractors Colorado Springs professionals who are familiar with local building codes.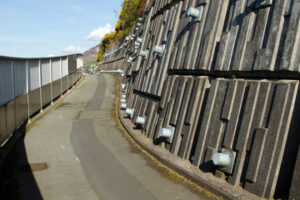 Strength
If you want your retaining wall to stay strong, it's important to follow proper construction techniques. This includes clearing vegetation, excavating the area, and grading it to promote water drainage away from the wall. You also need to build a strong foundation and add steel reinforcement bars. Finally, you need to backfill the soil gradually, making sure that each layer is compacted well. Using a compactor can help you achieve this goal.
Retaining walls are designed to hold the soil behind them, but they can't do so if the dirt isn't stable or if there are cracks in the structure itself. This is why it's essential to inspect your retaining wall regularly, checking for issues like shifts or cracks in the concrete blocks and gaps in the retaining wall structure. If you notice any of these problems, consult a professional to make repairs.
The most common causes of a retaining wall failure are soil instability, poor drainage, and water damage to the structure. The first step in preventing these problems is to survey the site and determine the best location for the wall. Then, a design can be drawn up, taking into account the wall's height, slope, and additional features. The design should be approved by a structural engineer.
Once the design has been approved, excavation can begin. This step should be done with care, as the excavation needs to be at the proper depth and by the design specifications. The soil should be graded and properly compacted to ensure that the retaining wall has enough strength and stability.
To prevent wall overturning and base sliding, it's recommended to install helical tiebacks or anchors to provide extra support. These anchors are driven into the ground through 1" holes in the wall and connected to earth anchors that extend beyond the retaining wall. They are then tightened to stabilize the retaining wall and restore it to its original position.
Another way to strengthen your retaining wall is to use a geogrid, which is a high-strength mesh material. This can be placed in the backfill to provide added stability and reduce soil movement.
Durability
A well-constructed concrete retaining wall can last for decades. However, how long a retaining wall lasts depends on many factors, including its construction techniques and regular maintenance. Some of the most important considerations are sound footing buried in the ground and drainage systems that prevent water buildup behind the wall, which can cause hydrostatic pressure that weakens the structure over time. In addition, regular inspections of the wall and immediate repair of any damages will prolong its lifespan.
A retaining wall can be built with different materials, but precast concrete is often used in construction due to its durability and longevity. It is fireproof and also resists the freeze-thaw cycles of harsh winter climates. In addition, it is relatively inexpensive and easy to install. It can be installed with a variety of decorative materials, such as bricks, flagstones, and stone veneers, to add texture and visual appeal.
It is also possible to construct a retaining wall using concrete blocks. These blocks are much cheaper than poured concrete and have good stability. They are also easy to assemble and can be easily curved or sloped. However, they do not have the same durability as a poured wall and are usually recommended for walls less than 4 feet tall.
Concrete block retaining walls can be repaired by replacing the damaged blocks. If the damage is severe, it may be necessary to remove the soil behind the wall and replace it with new material. For this reason, we recommend hiring a professional for this type of work.
The most common reason a retaining wall fails is due to damage. This damage can be caused by several things, such as soil erosion, lack of drainage, and age. These problems can result in the collapse of the wall and the loss of the soil behind it.
A retaining wall that has been damaged can be repaired by fixing its foundation and the tieback anchors. This can be done by installing new footings and adding more helical tieback anchors. In addition, the top of the wall can be reinforced with concrete, and vegetation can be planted along the base of the retaining wall to help hold the soil in place.
Flexibility
Concrete is an extremely versatile building material. It can be sculpted and colored to complement a wide range of landscape styles and features. Its flexibility also means that it can withstand many different forces without losing its structural integrity. However, this versatility isn't always apparent when a retaining wall is first installed. It's important to keep in mind that a successful retaining wall requires not only solid construction but also regular maintenance.
A retaining wall's lifespan is determined largely by factors that aren't readily visible, such as a sound footing buried underground and drainage to prevent water buildup behind the wall. In addition, it's important to consider the design and location of the wall, as this can affect its effectiveness and longevity.
Poor construction is a common cause of retaining wall damage. Makeshift walls are often built using dissimilar materials such as stone and concrete, which can cause cracks where the different materials meet. Additionally, retaining walls that do not have control joints to relieve stress tend to damage faster.
Properly constructed retaining walls are designed by certified engineers to support a given amount of pressure. They will include a base of crushed stone or gravel that will help to stabilize the soil. Additionally, they will have a grading plan to ensure that the water flows away from the wall.
If your retaining wall has cracks or other signs of damage, it's important to repair them as soon as possible. This will prevent the underlying soil from collapsing, which can lead to significant damage and potentially hazardous conditions.
Once the cracks have been repaired, you can use concrete repair epoxy to stabilize your wall. This product is available at most hardware stores and can be applied with a brush or sprayer. Alternatively, you can hire a professional contractor to do the repairs for you.
Wall sections are also extremely flexible, allowing them to conform to natural landscape contours. This allows the installation of unique designs and features that are not possible with conventional retaining walls. It is important to note, however, that a flexible retaining wall does not compromise the strength or durability of your landscaping.
Cost
If you're planning to build a retaining wall on your property, it's important to understand the cost involved. While it's not a cheap project, there are ways to lower your costs by working with a knowledgeable contractor and by selecting the right material for your wall. The most common materials are concrete, stone, and steel, but each has its own unique cost.
Retaining walls are used to prevent soil erosion, and they're also an attractive addition to a home. They can be built in a variety of shapes and sizes, depending on the needs of your yard. To determine the size of a retaining wall, you'll need to take into account the earth's pressures that will act on its plane faces. This pressure is calculated using Rankine's theory of passive and active earth pressure. The pressure will increase proportionally to the height of the wall, and it's important to take this into account when designing a retaining wall.
A retaining wall can be constructed with a variety of materials, including concrete, stone, wood, or brick. Concrete retaining walls are typically the most expensive, but they offer great durability and longevity. They're also extremely versatile and can be customized with a wide range of finishing options.
For homeowners on a budget, a concrete block retaining wall is an affordable option. Often referred to as cinder blocks, these blocks can be designed to create curved walls and come in a variety of colors. They're also easy to install, and they can be made as tall as you want. They're not as strong as a poured wall, however, and are best for walls that are less than 4 feet high.
For a more permanent and long-lasting solution, consider a poured or cast concrete retaining wall. These are more expensive than concrete block retaining walls, but they can be reinforced with steel for extra strength. They can also be faced with stones, bricks, or other decorative finishes to add visual appeal. It's important to note that if your retaining wall is going to be over 4 feet tall, you'll need to hire a structural engineer to design it.