Considering cabinet refacing? Often it is the best way to improve the look of your kitchen and save money at the same time. The process of cabinet refacing includes covering the inside of your cabinets with a new type of material and installing new doors, drawer fronts, and hardware. If your cabinets are in poor condition, cabinet refacing is also an excellent way to salvage the boxes and reduce the amount of waste. However, cabinet refacing is not a cure-all for a bad kitchen design.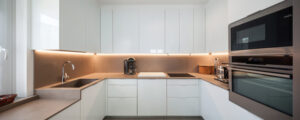 While the task of installing new cabinets is not difficult, refacing them can be even more challenging, since the job requires knowledge of the materials and tools. However, it is important to note that cabinet refacing should be left to professionals because even if you are skilled, mistakes and inexperience could quickly eat up your savings and make the project take longer. In addition, if you don't know how to do it properly, you can end up with a look that is less than desirable.
Before refinishing your cabinets, make sure that the contractor you hire has a license and insurance. While refacing may require no permits, you should still choose a contractor who is licensed and insured. They should have a good understanding of the materials used and whether or not permits are required. Moreover, they should be knowledgeable of recommended materials and what their process entails. You should also ask if any interior work will be included.
In addition to replacing cabinet "skins," refacing includes replacing old cabinet doors and drawer fronts. The old cabinet doors and drawer fronts are removed but the boxes are left intact. The new veneer is applied to the exposed sides and ends of the cabinet boxes. The process typically takes two to four days. This is a long-term project, so be sure to schedule the project well. This job will make your kitchen look new again!
When choosing a material for refinishing, consider your budget and the design of your cabinets. While refacing will give you a new look, veneering won't last nearly as long as brand-new cabinets. Besides veneering, you can also choose from other types of materials. Rigid Thermo foil, for example, is made of vinyl foil molded over MDF doors. These have a more realistic wood grain aesthetic, but fewer solid color options than plastic laminates. Plastic laminates can be used for cabinet refacing, but are best suited for plain-looking cabinets.
When it comes to refacing, you should know that the entire process can take as little as five days if done by a professional. This way, you can finish refacing one drawer or a whole cabinet on a weekend. Remember that refacing cabinets is usually completed in less than five days, depending on how long the installation takes. If you are in a hurry, you can complete this task on a weekend. However, it is important to note that you should consult with a professional before undertaking this project.
Refacing is a process where you remove the cabinet elements, including drawer fronts and doors. The cabinets themselves can be salvaged. Then, you can replace the drawer fronts, door hinges, and cabinet doors. Some cabinet refacing projects require an interior work evaluation. A professional will know which materials and techniques are best for the job and advise you accordingly. The process should take from three to five days, though you can finish one drawer at a time.
Another benefit of cabinet refacing is that it's a smaller-scale project, but it gives you all the benefits of a complete makeover. Not only does it result in a new look and feel, but it also saves you money. It's also far less disruptive than a full-on remodel. In addition to saving you money, cabinet refacing allows you to use your kitchen during the process. A full kitchen makeover can be a huge undertaking.